One of players' favourite events on the Irish Open calendar is The Hendon Mob Championship, a one-day, €250 buy-in Hold'em affair taking place this year on April 4.
THMC is one of nearly a dozen Championship tournaments being held at the Irish Open this year but – thanks to its association with the world-renowned Hendon Mob database, and the original Hendon Mob gang – it's one that people have particular affection for.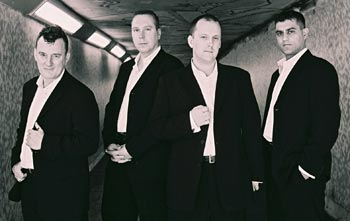 The Hendon Mob is one of the best-known brands in poker and has been going – in one form or another – for well over 20 years. It all started in North London when a group of friends – Barny Boatman, his younger brother Ross, Hendon resident Joe Beevers and Ram Vaswani – started getting a name for themselves playing poker. At the time, there was really no such thing as online poker, poker on TV or poker sponsorship but the Hendon Mobsters realised that poker had the potential to become really big.
Barny Boatman said: "We realised we might be able to leverage this identity we had and turn it into a sponsorship deal of some kind. So, we started the website and started adding content. We wrote about our poker travels; we had a forum where we would discuss poker and then we started writing up profiles of players and adding tournament results. Over time people were actually asking to be in it!!
"We were conscious that poker was about to have its moment – culturally and possibly as a business – and we wanted to be part of what we foresaw happening."
Their initiatives escalated into one of the world's most significant poker resources. Today the Hendon Mob database contains over four million live poker tournament results and holds stats on more than 750,000 poker players and 500,00 events.
In 2013, the four Mobsters sold the Hendon Mob brand to French entrepreneur Alex Dreyfus who also started up the Global Poker Index and Global Poker Awards. The business has grown exponentially and now employs a team of six. In 2019, it launched The Hendon Mob Championship (THMC) which has become a prestigious addition to many festival schedules.

Roland Boothby, Head of Partnerships at the Hendon Mob said: "We wanted to hold the Championship at the Irish Open just because of the prestige of the event and also I'd long been an admirer of those guys. We approached them and they were very positive and receptive.
"The first Hendon Mob Championship at the Irish Open was in 2019. We then had two years online during the pandemic and came back with a live version last year. The Hendon Mob Championship tournaments have been very well received by organisers and by players. It's a great event."
This year's Hendon Mob Championship gets underway at 4pm on April 4. All players start with a 15,000 stack and the blind levels go up every 30 minutes. Late reg is open until the end of Level 8.
Barny says the Mob have no regrets about selling the brand. He said: "Alex Dreyfus had the vision and resources to take it to the next level. None of us had invested a penny in it but it got to the stage that, in order to succeed, it was going to need proper investment and bigger staff – so the timing was actually great.
"We are delighted to still be associated with it, albeit historically. People have a warm feeling about the Hendon Mob; we're part of the history of it all – and part of the furniture. Also, we promoted the best things about the game, like fair play, and poker etiquette. We were just part of a wider social phenomenon and we tried to share that enjoyment with other people."
This year, the Irish Open is being held at the Royal Dublin Society in Ballsbridge from April 3-10 and Boatman is really looking forward to it. He said: "I've only missed one Irish Open in 22 years and that was because I couldn't get a flight. Playing the Irish Open is like coming home."
Last year's Hendon Mob Championship attracted a total of 332 players generating a €71,215 prize pool. The winner was Waheed "Wadey" Ashraf who battled through a very long day to win the €§10.825 first prize. Click here to watch Ashraf's interview Laura Cornelius after his victory.