After the departure of Nadeem Majid in third, both players would play 35 big blinds effective to start heads up, potential for a longer match. The pair were the two players who had proven most careful with their chips and at least on the day, two of the more skilled as well.
Blinds 30,000-60,000 with a 60,000 ante
Alex Peffly, 1.9 million
Christos Xanthopoulos, 2.4 million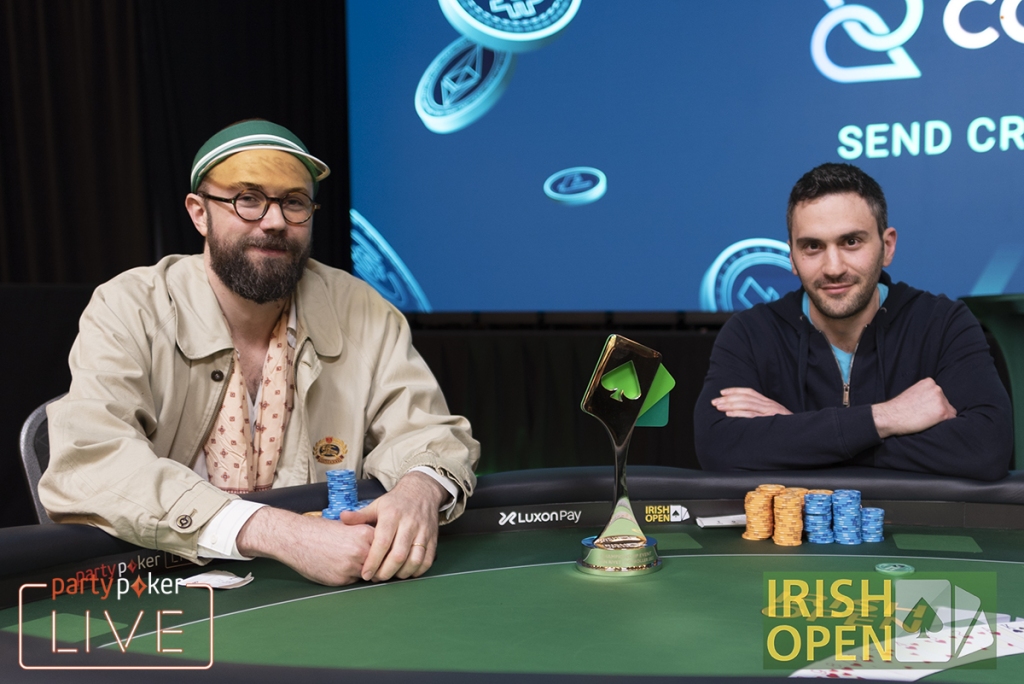 On the fourth hand of heads up, things escalated in rather severe degree. It was a hand both players will likely remember for a long time.
Peffly raised to 160,000 on the button and Xanthopoulos three-bet to 500,000. Peffly did not take too long to move all-in for 1.9 million and Xanthopoulos instantly called, covering him.
Peffly, 8c 8d
Xanthopoulos, Ts Th
Ad Qs Jh on the flop was absolutely no help to anyone. The pot was 3.8 million chips, representing 84% of all chips in play. Peffly was none too pleased, but had the air about him of what can you do? It was a cooler in every sense.
The 3s turned and Xanthopoulos was a card away from winning this high roller for a gigantic score.
8s!
An absolute smasher of a card. The crowd gasped, the room spun, but Peffly and Xanthopoulos barely moved. Xanthopoulos held his gaze without variation, Peffly's gaped a bit and mouthed:
"Wow."
One could understand why. The London-based restauranteur and chef now had 85% of chips in play in his stack. It was suddenly Xanthopoulos on the back foot.
From his micro-stack Xanthopoulos managed two quick doubles, after the second of which he allowed himself a smile. He was back to 10 big blinds and had a fighting chance.
The two went back and forth for some dozen hands, a credit to Xanthopoulos for grinding out small pot poker on a short stack. After such a gobsmacking two-outer, lesser players would have crumbled out of his edifice of discipline. But he was super short once again, still at the 40,000-80,000 level, and moved all-in from the button with Js 5c. Peffly had been playing a notch tight, but had a no brainer call with Ac Jc, an absolute monster. It was a desperate spot for Xanthopoulos, who would need to win this pot just to get back to ten big blinds.
Qc 9s 5d flop
Hope is a funny thing, because domination had been reversed and now Peffly would need a queen nine runout or an ace to scoop the win from behind.
9h turn
Any jack got added to Xanthopoulos's sweat. A queen, jack, or ace would seal the tournament for Peffly.
Ad!
Oh the drama of tournament poker. The deck didn't make it an uneventful ride for Peffly, saving an eight and an ace for the river, and just when he needed them. This heads up match could have gone late into the night given the skill and focus of the two combatants, and it could have ended quickly with the pair over pair cooler dealt (at first) in Xanthopoulos's favour to kick it off. But having knocked out the likes of Niall Farrell and Dominic Nietzche en route to victory, Peffly bested Xanthopoulos, no rainbow laden path, but the pot of gold at the end of it had €111,835 in it, so we imagine it was worth the ardour.
All smiles and class from the final table tonight and we would expect nothing less at the Irish Open. The man styled as a vintage card shark took his time and never stumbled — a classic performance!