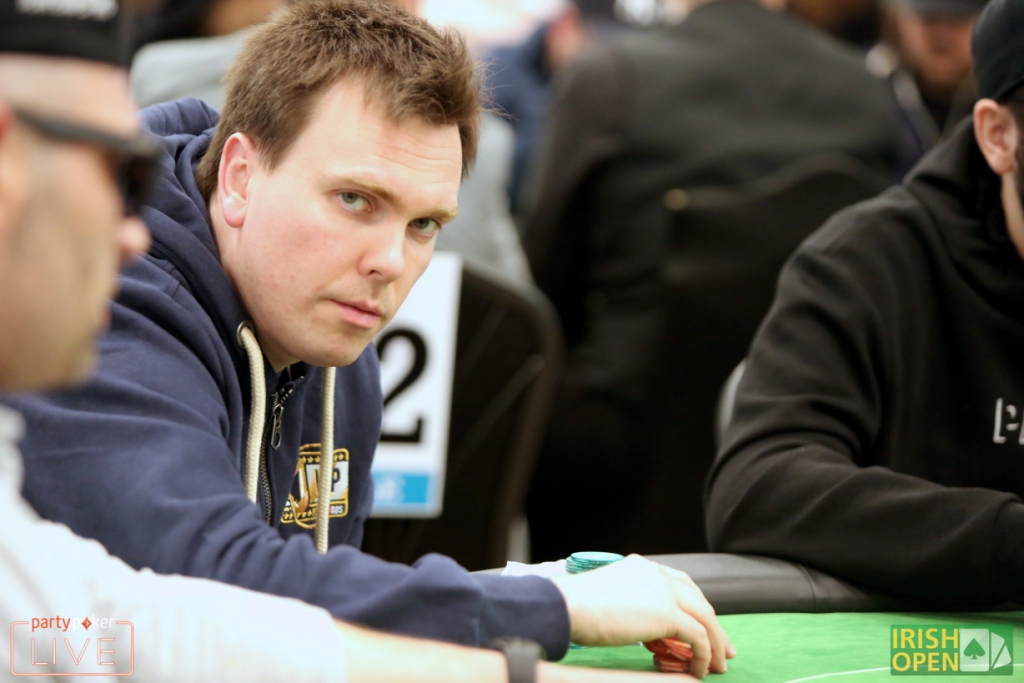 On neighbouring tables, two short stacked players were eliminated at almost exactly the same time: Espen Sandvik and William Fitzpatrick.
Sandvik shoved in an open spot for his last 215,000, called by cutoff Mircea Rus. He found himself in great shape with a dominating Ah Kh against Ad Jc. Preflop domination is no guarantee of post-river success, however. A jack on the flop was all it took to bust him; Sandvik's stack approaches 1.3 million.
Fitzpatrick, on the other hand, appeared positively chipper when his last few chips (all in preflop) went to Aidan O'Hagan as his pocket fives lost to king-queen suited.
"Laddered up for the last three levels with that stack!" said a tablemate, approvingly.
Here's a recap of the last levels' bustouts:
51 ESPEN SANDVIK €5,270
52 ANDREW SALAMI €5,270
53 ANTHONY KENNEDY €5,270
54 JOHN HOWLETT €5,270
55 STEPHEN WARD €5,270
56 TAN LUAN LE €4,570
57 FREDERICK COFFEY €4,570
58 REMUS MATACHE €4,570
59 HENNING KOSMALLA €4,570
60 ANTHONY GARDNER €4,570
61 KEVIN ALLEN €4,570
62 BILLY JOHNSTONE €4,570
63 TOMAS HALAS €4,570
64 JASON DONALDSON €4,570
65 RONAN MURTAGH €4,570
66 ORJAHN WINTHER €4,570
67 BHAVIN KHATRI €4,570
68 ANTHONY OKEEFFE €4,570
69 DANIEL SZYMANSKI €4,570
70 KELLY KELLNER €4,570
71 JOSEPH MCIVOR €4,570
72 SERGEJUS JAKOVLEVAS €3,980