If you're Irish, you know all about the "Granny Rule". It's how top international footballers were recruited to play for Ireland despite only having the most tenuous of connections to the Emerald Isle. Or, in Tony Cascarino's case, no connection at all. In his autobiography, Cascarino – who is also a keen poker player – admitted that, despite making a record 88 appearances for Ireland, he was a totally fake Irishman – his Irish "grandfather" was not actually a blood relative at all.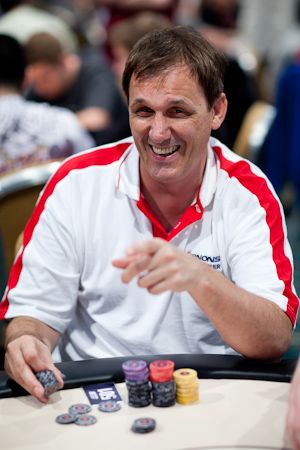 The Jack Charlton era was notorious for Granny Rule footballers turning out for Ireland including Glaswegian Ray Houghton, Mark Lawrenson from Preston and Liverpudlian John Aldridge.
The Granny Rule also held sway at the Irish Open for a while after the launch of the America's Cup.
The idea for the America's Cup was a good one:  with so many Americans and Canadians making the journey to Dublin every year, why not host a special tournament just for them? The idea was great in theory but the tournament was almost instantly a victim of its own success with a flood of non-American players – proffering highly spurious Granny claims – pressurising organisers to let them play.
This year's Irish Open America's Cup takes place on April 5. The €350 buy-in tournament starts at 2pm and features a 30-minute clock and 30,000 starting stack. You can register right now using Luxon Pay.
Despite this onslaught from non-Americans, the first America's Cup managed to keep it semi-legit: the winner Duff Charette was Canadian and so too was runner-up Shawn Daigle. Third-placed Brannon Kingston was from Gainesville, Florida and fourth-placed Abdullah Alshanti might be listed as British on the Hendon Mob but was also living in the Sunshine State.
Nevertheless, fending off wannabe Americans was exhausting for the reg desk and last year the rules were relaxed somewhat. Numbers soared with 191 entries from around the world and a prize pool of nearly €60k. The winner was Israeli Mor Kamber who took it down for £12,790 after besting a truly multinational final table that included Britain's Richard Pearson and Rupinder Bedi, Brazil's Alex Gomes, a Greek, an Irishman and a Lithuanian. This year there are no nationality rules at all – anyone can enter.
Irish Open co-organiser Paul O'Reilly said: "We thought it was a good idea initially as more and more of our friends from the Americas were travelling over to Ireland. That said however, those same people love a good tournament and when they themselves started vouching for long-lost cousins and so on, we just let it roll. That's how come we got 191 players last year and we're expecting even more this year. So now anyone can play the America's Cup. Doesn't matter. Come on in! We're not changing the name though – we like it."
How to register for the 2023 America's Cup on Luxon Pay
1. Sign up to Luxon Pay at luxonpay.com and verify your account.
2. Fund your Luxon Pay account using your preferred deposit method.
3. Select 'Shop' from your Luxon Pay wallet, and then select 'Irish Poker Open' you will then see a list of all Irish Poker Open tournaments. Click on your desired tournament & buy in.
4. Your buy-in is complete, simply visit the Irish Poker Open registration desk to receive your entry upon arrival.
We highly recommend using Luxon Pay, but if you really don't want to, then please message us directly via the website contact form.