Welcome to Chris Dowling, first Irish Poker Open Ambassador!
The Irish Poker Open is delighted to announce that Chris Dowling has become our very first Ambassador and is ready to spread the word about the festival far and wide.
Chris's role will be to raise awareness of the Irish Poker Open both at home in Ireland and overseas, and help promote the event to players – especially those who have never attended before. Chris has already got going on his new role – he's currently in Vegas where he is running a special "Irish Open Last Man Standing" contest at a big tournament out there.
Next year's Irish Poker Open is taking place April 3-10 at the Royal Dublin Society in the city's attractive Ballsbridge district. In addition to the €1 million guaranteed Main Event, the busy tournament schedule boasts nearly 40 events.
Anyone who knows Chris knows that he will be a great Ambassador for the Irish Open. He is already one of Ireland's most successful live tournament players; he's won close to $1 million in live poker tournaments and is currently ranked 23rd on the Ireland all-time money list.
We know that being the Irish Open's Ambassador is a role that will come easily to Chris as he's a self-confessed Irish Open super-fan and says it's by far his favourite event of the year. In fact, he likes it so much that even though he lives fairly nearby in Kildare, he always stays close to the venue so he can enjoy the craic at the bar after each day's poker ends.
Chris has played every Irish Open Main Event since 2009 and has cashed in the Main Event five times. His third-place finish in the 2017 Irish Open Main Event was one of the best cashes of his live poker career but he's also had a couple of other deep runs including 13th in 2015 and 24th the year before that.
Chris said: "There is no event like The Irish Open. You just can't replicate the atmosphere in the rooms and the bars. The craic is easily the best. Poker is a very big part of the Irish Open of course but there are so many other things going on during the week; you can play poker non-stop or there are a lot of off-the-felt activities.
"The Irish Open is definitely one of the highlights of the poker calendar for players from around the world but there is also a big poker community in Ireland and, money aside, this is the one tournament that we'd all LOVE to win!
"For me, the Irish Open is both a poker tournament and a social event – a lot of people that I used to play against will arrive at the bar every year. The Irish Open is actually the only Dublin tournament where I always stay on site so I can have a few drinks after playing and generally just enjoy the weekend."
Back in 2017, it was eventual champion Griffin Benger who ended Chris's hopes of winning that year's title. With just three players left, Benger bust Chris shortly after the dinner break when his AQ improved to two pair on the flop against Chris's A8 pre-flop shove. Chris snagged €75,000 for his third-place finish.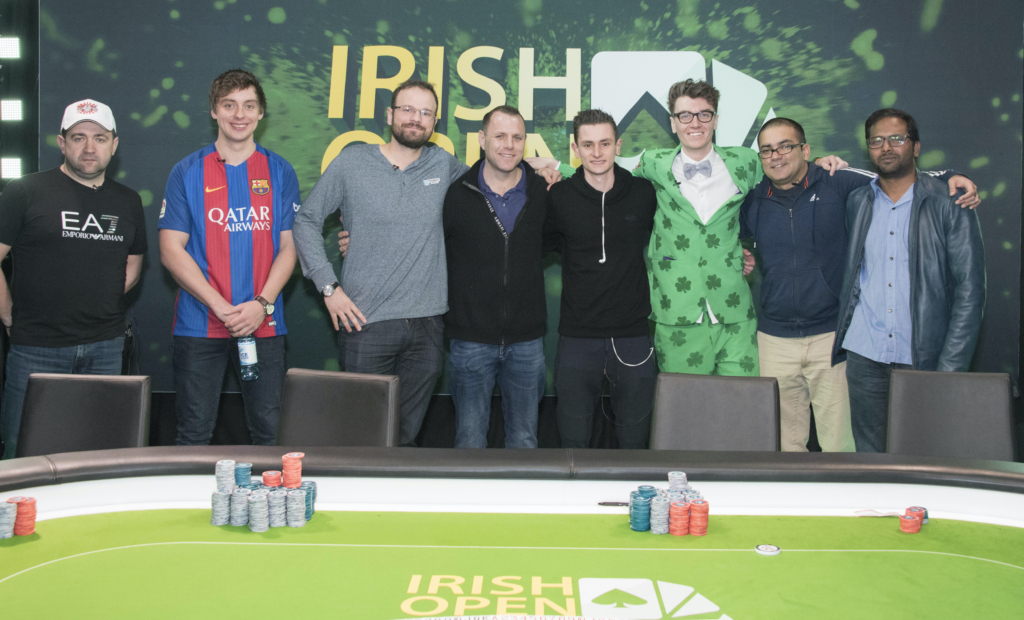 When it comes to the schedule, Chris is looking forward to the €5k High Roller, €1k Mystery Bounty and €1k PLO in addition to the Main Event. He said: "The €5k is a great addition to the schedule and it's growing fast. From what I'm hearing, it will be even bigger again next year." Chris said he also plans to play a lot of cash games. He added: "There is always a great choice of cash games at the event."
For accommodation this year, Chris is recommending the Herbert Park hotel. It's close to the new venue at the Royal Dublin Society and is one of three hotels where MainEventTravel – the event's Official Travel Partner – has secured special rates for players. Chris added: "If you're looking to stay within walking distance to the venue, I'd recommend booking early as these rooms will go fast!"
Irish Open managing director Paul O'Reilly said: "We are thrilled that Chris has come on board as our very first Ambassador. Chris is a stalwart of the Irish poker scene and a really well-respected player both at home and overseas. He is a great supporter of the Irish Open so was the obvious choice for the role of Ambassador. He appreciates the history of the event but he also loves a bit of craic off the tables which is what the Irish Open is all about!"