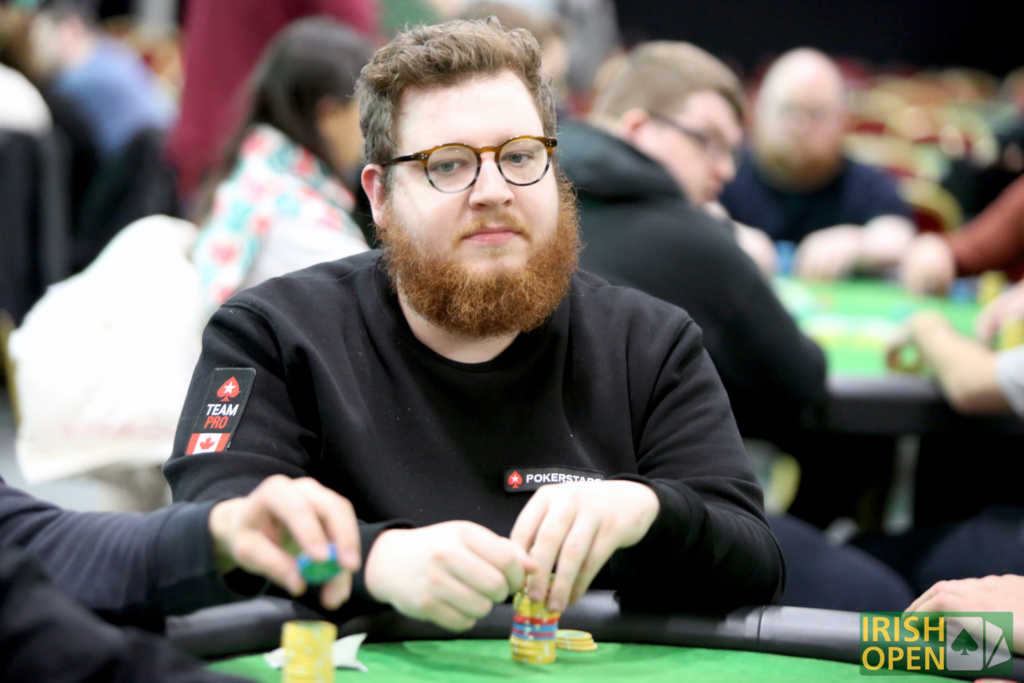 It's Day 2 in the €1,100 Mystery Bounty and all 46 players returning are in the money, guaranteed at least €960 in boring, normal, regular prize money – but could be walking away (or, rather, back to their seat) with as much as €25,000 extra in bounty booty!
The winner will take home their own bounty plus €32,700.
Bounties to be won (in total):
2x €25,000 (one reserved for the FT)
2x €15,000
2x €10,000
4x €5,000
15x €2,000
22x €1,000
Here's the full line-up and chip counts at the start of Day 2 – current seating and prizes awarded can be found all day by clicking the LIVE DATA or RESULTS tabs!
| | | | | |
| --- | --- | --- | --- | --- |
| 1 | Luis Diaz Justiniano | 64 | 8 | 900000 |
| 2 | MIRCEA RUS | 42 | 1 | 794000 |
| 3 | DANIEL LAIDLAW | 55 | 2 | 726000 |
| 4 | JAMIE WALDEN | 43 | 8 | 578000 |
| 5 | OLIVER RICHARD WHITE | 42 | 3 | 539000 |
| 6 | Parker Talbot | 63 | 6 | 510000 |
| 7 | MARTIN OLALI | 64 | 6 | 445000 |
| 8 | STEPHEN KEHOE | 42 | 6 | 412000 |
| 9 | KEITH KEWLEY | 43 | 4 | 386000 |
| 10 | JEFF KIRSCH | 54 | 4 | 266000 |
| 11 | VAMSHI VANDANAPU | 55 | 6 | 265000 |
| 12 | NICK YEOMANS | 63 | 7 | 249000 |
| 13 | DAVID STOKES | 55 | 4 | 248000 |
| 14 | PAUL ROSNER | 54 | 5 | 238000 |
| 15 | BARRY GRIME | 55 | 1 | 233000 |
| 16 | KENNY BROAD | 54 | 1 | 220000 |
| 17 | ALEX WHITENSTALL | 55 | 8 | 201000 |
| 18 | JESSICA PILKINGTON | 55 | 5 | 185000 |
| 19 | GUY TAYLOR | 54 | 2 | 181000 |
| 20 | MARTYN CAVANAGH | 64 | 3 | 180000 |
| 21 | FILIP ALEKSIC | 54 | 3 | 177000 |
| 22 | PARESH DOSHI | 42 | 7 | 176000 |
| 23 | MICHAEL MITRIONE | 64 | 1 | 170000 |
| 24 | NIKOLAI MAMUT | 43 | 3 | 162000 |
| 25 | ANDREW DICKINSON | 43 | 6 | 154000 |
| 26 | ANTHANASIOS FERGIATAKIS | 64 | 2 | 145000 |
| 27 | ANTHONY KENNEDY | 42 | 8 | 144000 |
| 28 | SVEN RAHMSDORF | 64 | 5 | 137000 |
| 29 | FRANK STEPUCHIN | 43 | 7 | 113000 |
| 30 | CHRISTOPH HUBER | 55 | 3 | 112000 |
| 31 | FARID FAWZI | 63 | 1 | 110000 |
| 32 | RENE MIDDELBERG | 63 | 5 | 102000 |
| 33 | DANIEL MENGER | 64 | 7 | 99000 |
| 34 | HENNING KOSMALLA | 63 | 2 | 96000 |
| 35 | JAMES GOLDER | 54 | 8 | 79000 |
| 36 | Conor Beresford | 64 | 4 | 78000 |
| 37 | TUDOR NEACSU | 42 | 5 | 70000 |
| 38 | TREVOR DINNEEN | 63 | 8 | 69000 |
| 39 | DANIEL WILSON | 43 | 5 | 65000 |
| 40 | PHILIP CLARKE | 43 | 1 | 63000 |
| 41 | ANDREW LAWTON | 42 | 4 | 47000 |
| 42 | JACK ALLEN | 63 | 3 | 40000 |
| 43 | SEAN PRENDIVILLE | 43 | 2 | 39000 |
| 44 | GAETAN EBEN | 54 | 7 | 31000 |
| 45 | ABDULLAH DOOLEY ALSHANTI | 54 | 6 | 22000 |
| 46 | JESSE FREEMAN | 42 | 2 | 17000 |