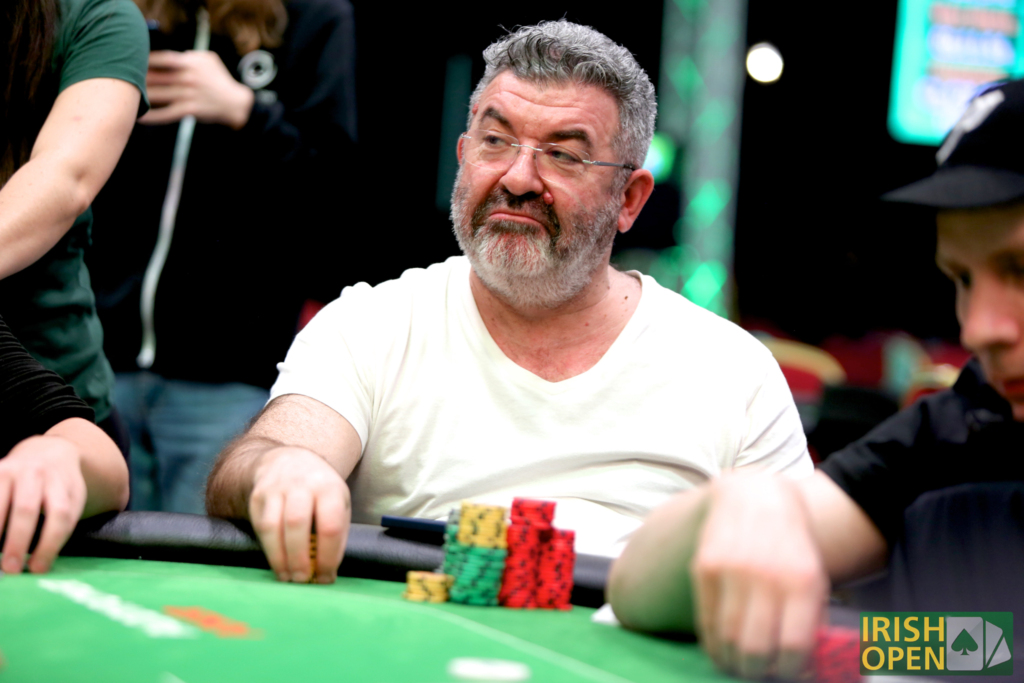 That's a wrap on Day 1 of the €3k High Roller Championship! With the craic beginning to eclipse the cards, it's probably for the best that this lot is released from the tournament area into the bar until play resumes at 1pm. A thoroughly entertaining end to official proceedings for Saturday at the Irish Open.
Sixty-four players remain of 122 entries, including Steve O'Dwyer (now committed to just regular old chairs for the duration), Parker Talbot, John Eames and 2016 Main Event champ Dan Wilson. Top of the chip count pops going into Day 2, though, is Benjamin Lebor on 286,100. He is pictured above, looking rather pleased with himself, and honestly he's earned the right. Btw the final number of entries may yet go up – late reg is open right up until the start of play on Day 2.
We'll be back with coverage of the final day tomorrow – please use the drop down menu above to navigate to Event 30 Final Day and we'll be bringing you as much of the action as possible while we scuttle about between championship events. Until then – we reckon we can just about make last orders at the bar!
Full chip counts:
| | |
| --- | --- |
| BENJAMIN LEBOR | 286,100 |
| KEITH LITTLEWOOD | 256,600 |
| TERENCE JORDON | 256,000 |
| ANTHONY KENNEDY | 200,000 |
| Ewen Trevidy | 189,500 |
| DYLAN YIP | 189,500 |
| DANIEL WILSON | 180,500 |
| PATRICK WHITE | 176,500 |
| CHRISTIAN PEDERSEN | 175,000 |
| FRANCIS OBADUN | 174,000 |
| ONDREJ DROZD | 173,100 |
| DANIEL SAHLIN | 166,400 |
| JACK VEAL | 158,100 |
| RYAN OTTO | 152,200 |
| Parker Talbot | 148,900 |
| CHUC HOANG | 147,800 |
| FABIAN GUMZ | 140,000 |
| BILLY IRVINE | 130,500 |
| NIALL FISHER | 129,700 |
| SEAN FOLEY | 127,800 |
| CHRIS WILLIAMS | 126,000 |
| TOUKO BERNDTSON | 122,600 |
| MITCH JOHNSON | 122,300 |
| MIROSLAV FORMAN | 103,600 |
| Alexios Zervos | 94,200 |
| STEPHEN ODWYER | 93,900 |
| SINGH SIDHU KULJINDER | 92,000 |
| PADRAIG ONEILL | 87,900 |
| DANIELLE NOJA | 82,300 |
| MANOEL GOMES FILHO | 80,100 |
| SCOTT MARGERESON | 78,200 |
| PHILIP CLARKE | 78,100 |
| COLM CHAN | 76,100 |
| MARIAN DUMITRACHE | 74,800 |
| IRAKLIS MANIKAROS | 72,300 |
| KEVIN PARKES | 71,200 |
| GUY TAYLOR | 69,000 |
| PAUL NEWEY | 67,500 |
| COLIN GILLON | 65,700 |
| MICHEL KARIM | 63,600 |
| EMMETT MULLIN | 62,700 |
| JOHNATHAN MCCANN | 60,100 |
| MATTHIAS LIPP | 60,000 |
| Conor Liam Bergin | 52,400 |
| ABDULLAH DOOLEY ALSHANTI | 52,000 |
| CARLOS DA COSTA DIAS | 51,500 |
| WOUTER BELTZ | 51,200 |
| TOBY JOYCE | 50,200 |
| JOHN EAMES | 50,000 |
| WAHEED ASHRAF | 49,300 |
| KEITH JOHNSON | 48,900 |
| JOHN DWYER | 44,500 |
| NIKOLAOS ANGELOU KONSTAS | 44,300 |
| ADRIAN STROBEL | 43,100 |
| MICHAEL ANTHONY KANE | 43,000 |
| MARC MUELLER | 40,700 |
| CAOLAN HEATH | 38,100 |
| JACK ALLEN | 37,000 |
| JAMIE FLYNN | 35,000 |
| SIMON WILSON | 32,500 |
| ALESSANDRO PICHIERRI | 27,500 |
| VAMSHI VANDANAPU | 25,900 |
| Fotios Ntamaris | 22,800 |
| BIXI YAO | 5,200 |