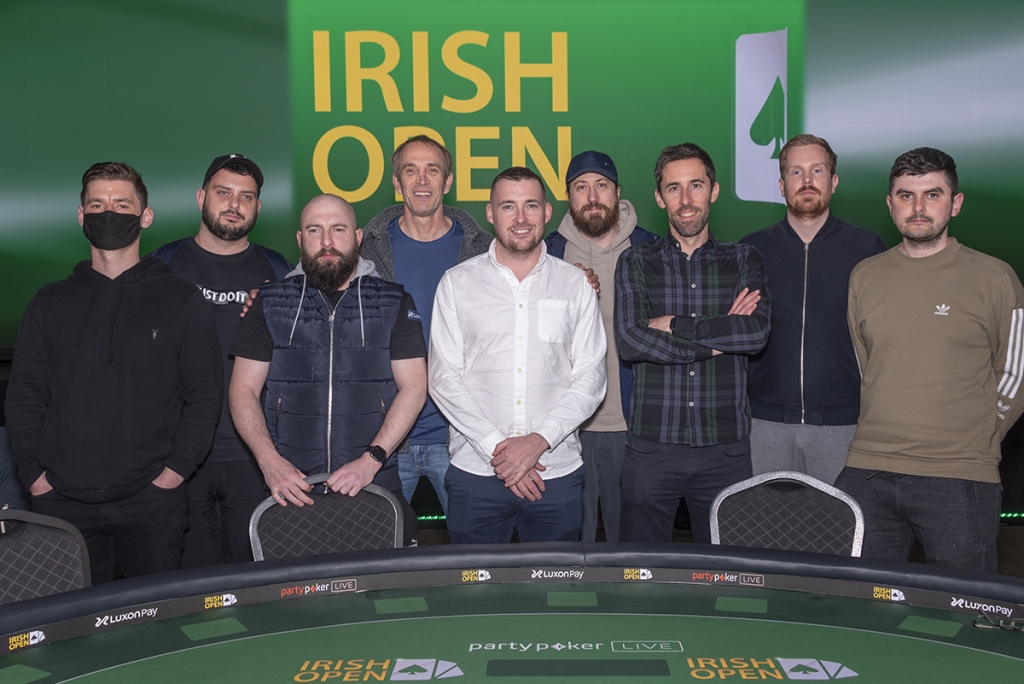 We're back and cards are about to hit the air for the thrilling denouement of the record-setting €1,150 Irish Open Main Event! Our final nine players are settling down at the livestreaming table and will be there for the viewing with around a 20 minute delay. Click here to join the viewing entertainment.
Our prior Main Event champions Patrick Clarke and Dan Wilson are close – both in chip stack and physical location. The neighbours will be looking to outlast each other, and the tough final table line-up that is led by general crusher Steve O'Dwyer.
Today's winner will take home the 2022 trophy as well as €318,700! Good luck, finalists.
Full Final Table Payouts:
1 €318,700
2 €195,800
3 €138,700
4 €103,600
5 €81,550
6 €61,600
7 €46,550
8 €36,440
9 €26,630
FINAL TABLE SEATS & CHIPS
Seat 1 Steve O'Dwyer – 14,435,000
Seat 2 Garry Spinks – 8,275,000
Seat 3 Matthew Bushell – 5,545,000
Seat 4 Patrick Clarke – 2,005,000
Seat 5 Daniel Wilson – 1,940,000
Seat 6 Justin Boyle – 8,450,000
Seat 7 Mircea Rus – 3,730,000
Seat 8 Chris Williams – 2,765,000
Seat 9 Kyle Maguire – 13,075,000
We'll be blogging along with the stream to avoid spoilers, so please hold your horses until the first action is broadcast…