Players from all over the world will be flocking to Dublin next month to take part in the Irish Open. The annual festival – which is taking place this year from April 3 to 10 at the Royal Dublin Society – is an annual trip that most regulars wouldn't dream of missing.
Last year players from nearly 60 countries took part in the €1,150 buy-in Main Event. Understandably the majority were from Ireland (550+), and Brits weren't shy to cross the Irish Sea either (300+) but other nationalities also show an enthusiasm for Europe's oldest poker tournament that shows no sign of abating.
In addition to the hundreds of players from Europe who take part, players from other continents travel thousands of miles to compete in Dublin. In last year's Main Event, the 2,040-strong field included entrants from Israel, Chile, Brazil, Sierra Leone, Puerto Rico, China, Hong Kong, Japan, India, Malaysia, New Zealand, Vietnam and even the Maldives.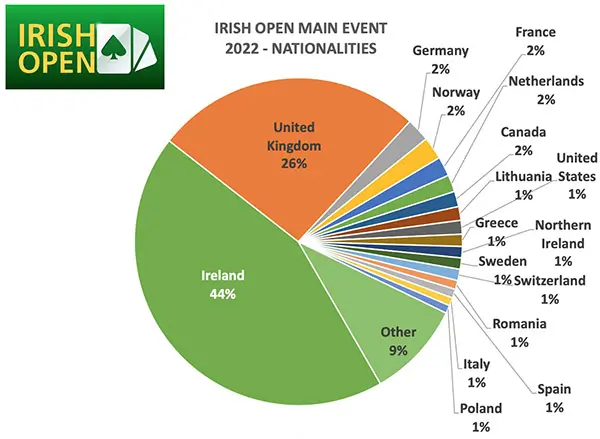 The Irish Open is authentically cosmopolitan – and the smorgasbord of accents at the bar reflects this flamboyant mix. For many overseas players, the event is as much about the "craic" as it is about the poker: getting together with old friends, making new friends, listening to music, and joining in all the fun and games.
Canadians arrive in droves and have been coming for years after hearing how convivial the event is. The list of top 20 cashers at the Irish Open includes Toronto player Nicola Basile who has cashed nine times and won the 2019 Heads-up tournament.
Nordic players (Denmark, Sweden, Finland, Norway, Iceland and Finland) also turn out in force. Their presence is no coincidence though – on six different occasions, the Irish Open followed the Norwegian Championships giving players the chance to enjoy back-to-back festivals. Norwegian players Jon Kyte, Robert Kaggerud and Orjan Skommo all feature in the top 20 cashers.
The event is truly international when it comes to results too; last year's Main Event final table featured players from five different countries. Mor Kamber from Israel won the America's Cup while Canada's Raph Verdugo won the €150 PLO. There were also side event winners from France, Poland, Germany, Lithuania, Finland, Sweden and Switzerland.
Overseas satellite stars
The huge number of prize packages available via online satellites on PokerStars, Paddy Power and iPoker is also going to give overseas players a cracking chance of winning their way into the event this year. The list of qualifiers who have won seats on PokerStars includes players from Brazil, Bolivia, Canada and New Zealand – and there are still two weeks of satellites to go. For more info on how to win your way to the Irish Open, click here; to register, click here.