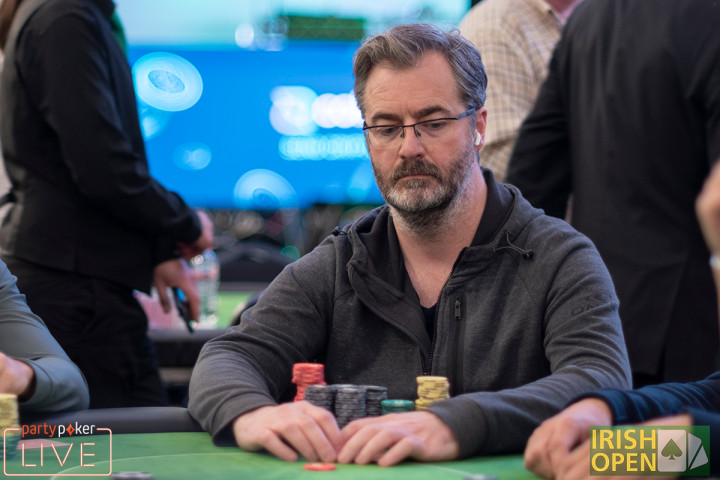 It's been quite the day with not one, but two Irish Open Day 1 flights taking place. Guy Johnson leads the counts for the second of these – his 203,300 putting him clear of the 1D field and well placed when they return to do battle on Day 2 of the Irish Open. He vaulted into the chip lead by eliminating Jack Mauron on the last hand of the day.
The final flight of the Day 1's was always going to be frenetic. The turbo 20 minute levels encouraged players to make hay while the sun shone or watch their stacks being gobbled up by the blinds like those strange creatures in The Langoliers gobbled up the physical world. (For anyone who hasn't seen that film, imagine multiple real life versions of PacMan coming for your chips – nomnomnom.)
Apart from the chip leader, these players also garnered healthy stacks that will send them to their beds with ambitions of Irish Open glory still burning brightly in their dreams:
Eoghan Byrne – 190,000
Anthony Dermody – 183,000 (though it appears he has put himself down as Anthony Thunder at 200k on his bag. Possibly alcohol induced…)
Sander Ostlyngen – 174,100
The two flights today contributed to an enormous field in total of 1,913 – a record for Irish Open Live Main Events. Apart from the record-breaking numbers, the whole tournament has been played in such high spirits – everywhere you look, you find players laughing, joking and generally loving life.
Isn't it great to be back?
If you thought the last few days have been exciting, you ain't seen nothing yet. Join us at 12:00pm as the 724 remaining players continue their journey down the road toward the Irish Open trophy. Players can fire one final bullet up to the start of play tomorrow so we could yet see a 2,000+ field.
Will it happen? Join us to find out – we'll see you then!