The 2023 Irish Open Delivery was the stuff of dreams for many players but none more so than Donegal delivery driver Declan Rice. Declan was runner-up in the Main Event and snagged a life-changing €228,700 after winning his seat in an £80 satellite. His phenomenal achievement stunned players and media alike and will remain an iconic moment at Europe's oldest poker tournament.
Although he's most definitely an amateur player, Declan is no slouch at poker. Now 51, he's been playing for 20 years and reckons he's been a winning player for 19 of them. He started off in home and pub games and then took up playing online as well. Nowadays, he mainly plays cash live and tournaments online, but he also loves to travel and has competed at live poker festivals all over Europe including Montenegro, Croatia, Spain, Bratislava and Vienna. He said: "I love socialising and meeting local people – chatting to them about their way of life and culture, and I love the beer of course which helps."
Declan won his seat for this year's Irish Open in an £80 satellite at the Pot Black Club in Cookstown, County Tyrone – a Northern Ireland town just an hour from his home over the border in Lifford, Donegal. He also – rather famously – won a second seat in a €115 super satellite at the RDS the night before Day 1c, a satellite he only played because he was waiting for a seat in a cash game.
As a keen MPN Poker Tour participant, Declan was already well-known to the Irish Open blogging team and made frequent visits to the "media room" – a row of desks behind a curtain near the final table – partly to update everyone on his progress but also so he could charge his campervan battery pack. To save on hotel costs, Declan spent every night of the Irish Open sleeping in his van which was parked up just behind the venue. He even went for naps there in the 90-minute dinner breaks.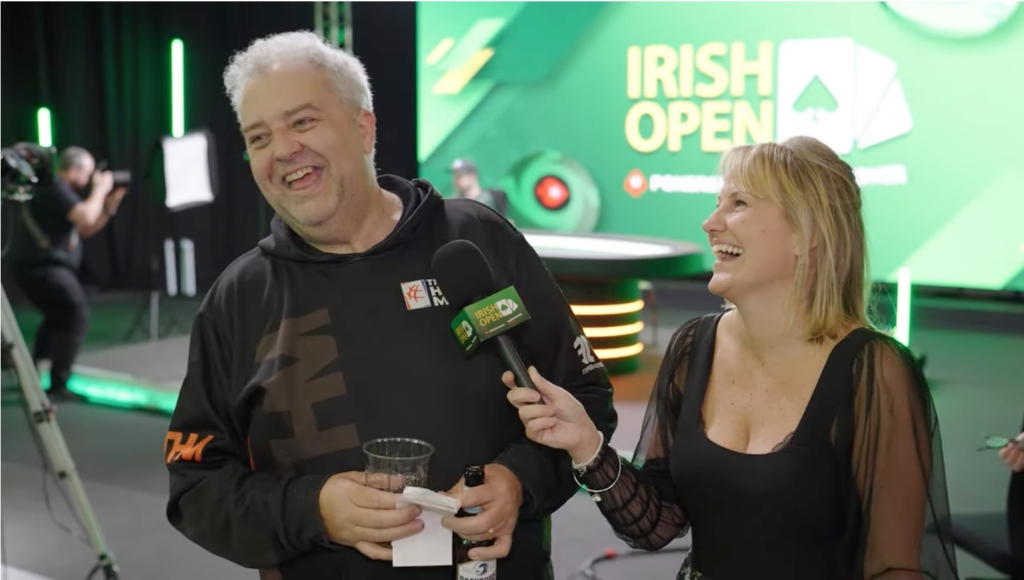 Prior to Dublin, Declan's total live tournament winnings amounted to just $40,000 and his biggest cash was a deep run at MPNPT Tallinn in 2019 where he finished 11th for €3,300. His Irish Open win is some 66 times bigger than that and the huge score has led to some life-changing decisions. No, not fast cars and Rolexes. But Declan has paid off his mortgage now and is planning to play slightly bigger buy-in tournaments. He said: "All I ever really wanted was security and I've got it now. But I'm not going wild. I'm setting €50k aside to play poker and that's it. Before Covid, I was supposed to be going to play in Namur in Belgium so that's somewhere I want to go. And I'd love to go back to Montenegro. And I'm also hoping to play The Festival in Malta. But I'm trying to win a package for that one."
The Irish Open performance has been life-changing in other ways too. On his way home after the Irish Open, Declan stopped off at a shop in Ardee and got recognised. "The guy said 'I know you! You play poker and you were runner-up in the Irish Open!' I couldn't believe it! He'd been watching the live stream."
He has also been getting great feedback and accolades from his peers. He said: "I played a tournament in County Mayo last week and there were about 100 players and at least 80 of them came up to congratulate me. People were saying to me how great it was to see an amateur doing so well – that I'd taken on the big boys and beaten them at their own game."
Declan is modest about his skills but he knows he didn't luck-box his way to the final. He said: "I knew that I was better than a lot of people but I did always doubt that I had a big score in me. To be honest, I thought the big score was never going to come – but then it did!"
Declan's wife Grainne – a school secretary – rarely accompanies him to tournaments and was on holiday in Tenerife with their youngest daughter Erin when the final table transpired. He said: "She's not interested in poker, she doesn't even know the rules. She did come to Sunny Beach, Bulgaria once – but only because there was a beach. She and Erin watched the final table though – from a pub in Tenerife – and loads of other people were watching in bars in Tyrone and Donegal.
Declan's tournament was quite the roller-coaster. After sinking to 19k on Day 1, he spun that up on Day 2 to 610k. But on Day 3, he was totally card dead (and spot dead) and saw his stack dwindle from 1.2 million down to 300k. He said: "I was down to four big blinds at one point without even playing a hand. And then it all turned around. I think it was Aces that revived me but anyway, after that, it all went pretty well."
On the final table, Declan was up against seasoned pros like Irish poker legend Andy Black along with eventual winner David Docherty and Luxon Pay Managing Director Tom Waters. Docherty won €365,000 for his spectacular win. This year's Irish Open was the biggest poker tournament ever held in Ireland and attracted a staggering 2,491 entries, creating a guarantee-busting €2,428,725 prize pool.
Another aspect of life that's not going to change for Declan is his involvement in local poker. He said: "I play about three to four nights a week in Donegal and I'm still going to be doing that. I play live cash games because I enjoy the social aspect of it."
He's also keeping his job at DPD. He said "I've been part-time for a few years anyway but I've no plans to quit just yet. I'm still an amateur player."