Irish PokerStars Ambassador Fintan "EasyWithAces" Hand will be competing at this year's Irish Open – and hosting his own "meet-up" tourney there with fans of his popular Twitch stream.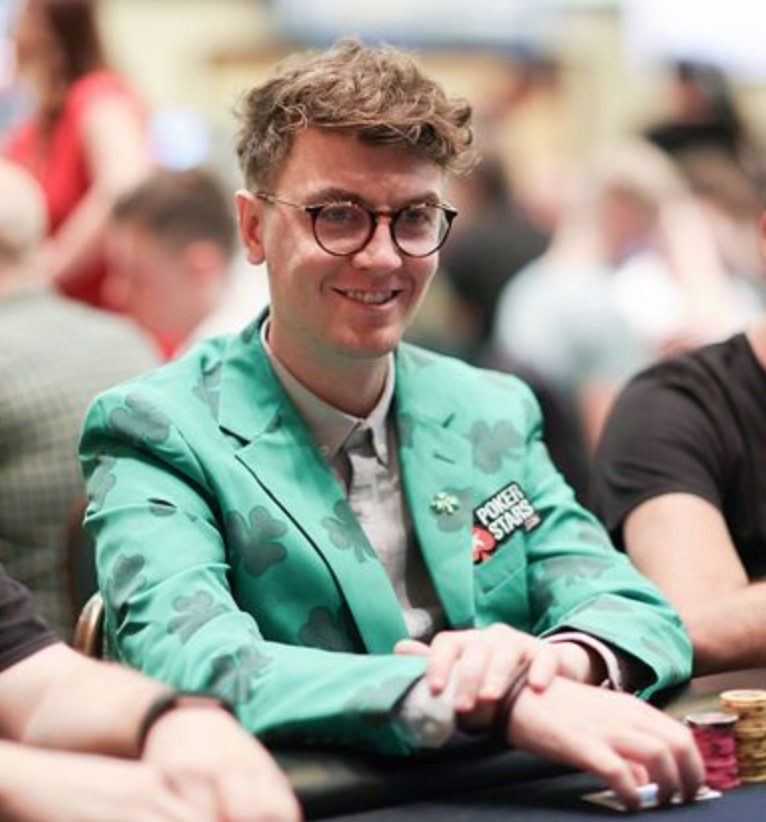 Fintan hails from Dublin and now lives just a 15-minute walk from the Royal Dublin Society venue but, somewhat surprisingly, he has only ever played the Main Event once before. Back in 2017, Fintan was living in Malta but managed to get over to Ireland for that year's Irish Open. He made it all the way to the final table before busting in seventh place for €19,445.
There was no forgetting Fintan's Irish roots at the 2017 event as he was sporting a bright green, shamrock-embellished tailored suit that his Mum bought for him and insisted he wear. He said: "I've pledged to wear it again this year if I make it past Day 1! I'm very proud of being Irish. I'm Irish through and through and want to put Ireland on the map as much as possible."
Fintan is planning a busy schedule at this year's event and aims to attend every day. He said: "Because I lived in Malta for so long, I haven't shown my face that much at Irish events so I really want to meet as many different people as possible and get to know the community. I'm aiming to play poker every day there, whether it's a tournament or just a cash game. I'm obviously very excited – it's going to be a lot of fun."
Back in the day, Fintan worked at the Fitzwilliam Casino in Dublin as a dealer. His long hours there meant he didn't have much free time to compete in Irish Open tournaments but would often turn up after work to play cash. Like so many players, he relishes the Irish Open atmosphere. He added: "I feel that the Irish Open is a bit like a poker players' Christmas party! Everyone comes together and while everyone wants to win, it's a lot more community-based than a lot of events. Everyone wants to run as deep as possible but the tournaments are a lot more affordable so people can get more involved."
SCOOP hat-trick
Only a few months after Fintan's final table appearance in 2017, he was signed up by PokerStars as a member of Team PokerStars Online. He now has more than 130,000 followers for his five-times-a-week Twitch stream and is also an avid broadcaster on YouTube and TikTok.
Online, Fintan has had huge success. In the space of three years, he racked up a hat-trick of SCOOP victories starting in 2020, when he won a $1k Afternoon Deep Stack for $73,653.
The following year he won the $5k PKO High Roller for $232,156, and followed that up in 2022 with a third title in the $2k 8-Max, PKO Sunday Warm-Up.
Fintan first started player poker at school: €5 games in the school playground, winner takes all. Once he was 18, he started playing online on PokerStars and combined online grinding with his job at the Fitzwilliam. After going to Malta on holiday, he ended up spending eight years there before moving back recently to set up home in Dublin with his now-wife Hannah and their nine-month-old daughter Odette.
Now he's hoping for another deep run in this year's Irish Open Main Event but says his main aim is just to enjoy himself. He said: "I don't play live poker much so I do treat it recreationally. I'd like to make it to Day 2 or 3 but I just hope to avoid a horrible exit like 2017! My strategy is really just to be going in and enjoying myself. If I play something every day, then winning an event doesn't seem out of the question. I feel I've got as good a chance as anyone else."
Fintan also advised newcomers to the event not to get too intimidated. He said: "You should concentrate on your own game and not get too caught up in it. You get two cards; they get two cards. Play for fun and if you happen to have a deep run, then that's great!"
Back in January, Fintan hosted an Irish Open Home Game promotion with winner Eimhin "justspenders" Cullen snagging a €1,150 seat in the Main Event. But there are still chances to join Fintan at the RDS; next week he'll be hosting a series of Home Games for Irish players with the winners getting to compete in his €10k meet-up freeroll on Thursday, April 6.
As well as Fintan Hand, his fellow PokerStars Twitch streamers Georgina James and Ben Spragg are also set to compete at this year's Irish Open while Team Pro Nick Walsh will be joining the commentary team alongside Joe Stapleton, James Hartigan and 2017 Irish Open champion Griffin Benger.