Bennet-Martin takes down €250 Championship Ladies Event
Congrats to Canadian Elizabeth Bennett-Martin who has won the €250 Irish Open Championship Ladies Event for €3,690 after seeing off stiff competition from the 63-runner field. Bennett-Martin first discovered the existence of the Irish Open at the PCA when Nick O'Hara suggested that she try it out, and after a tester trip in 2016, she has been back every year, with an ever-growing host of Canadians (and now Americans, too).
Michelle Bricknell was runner-up for €3k with PokerStars Ambassador Georgina James out in third place for €1,790. The Ladies event is one of the consistent fixtures on the Irish Open schedule and always attracts a substantial field. Among those who took part in yesterday's event were American player Kelly Saxby, Charlie Waters, Natalie Bromley, June Jenkins, Kim Kilroy, Rachel Heneghan, Mor Kamber, Debs Worley-Roberts, Sin Melin, Suzie 'Shizzle Sizzle' Williamson and Maxine Preston. Last year's winner – Lithuania's Migle Kriksciunaite – also took part along with runner-up Grace Hession from Ireland. The total prize pool this year was €13,513.
1, Elizabeth Bennett-Martin, Canada, € 3,690
2, Michelle Bricknell, United Kingdom, € 3,000
3, Georgina James, United Kingdom, € 1,790
4, Katie Ramsden, United Kingdom, € 1,430
5, Tina Abery, United Kingdom,  1,110
6, Smadar Kruvi Shalhav, Netherlands, € 865
7, Una Ortell, United States, € 690
8, Caitlin Mooney, Sweden, € 540
9, Lisa Marie Zotzenbach, Germany, € 400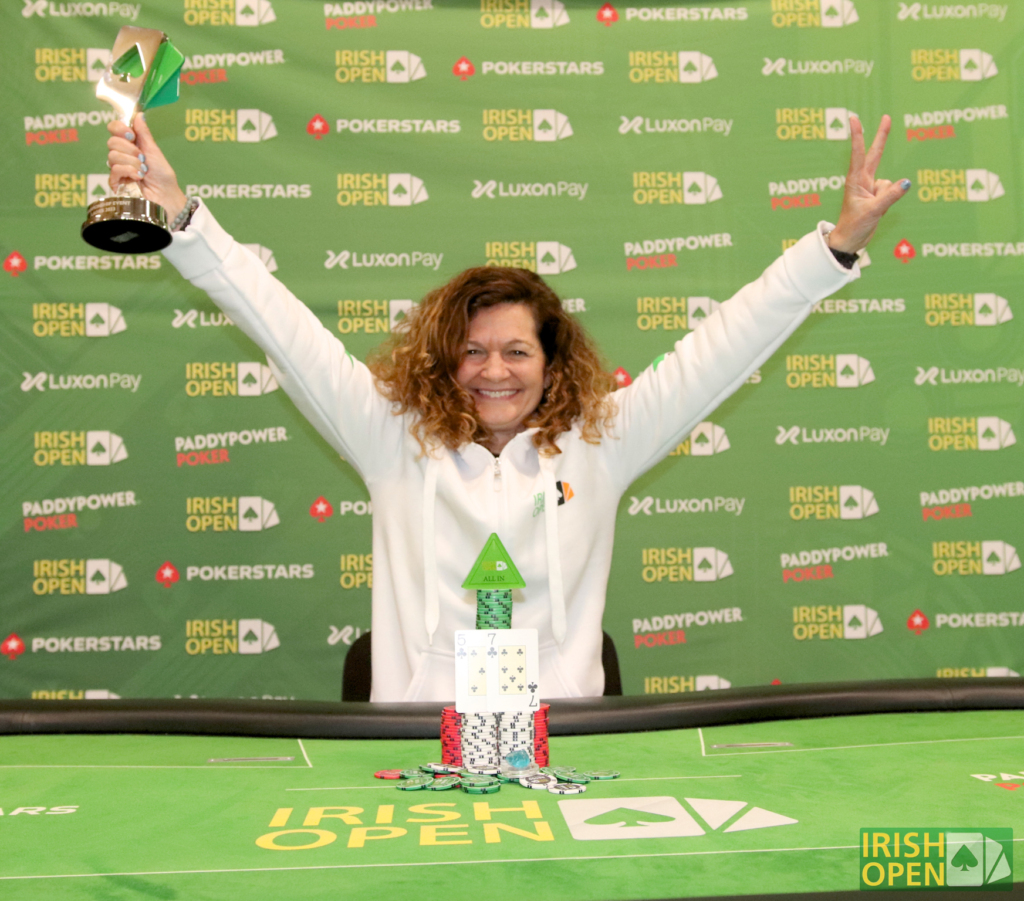 Congratulations to Marian Dumitrache, Gold Medal winner in the €250 Irish Amateur Poker
ChampionshipCongratulations to Marian Dumitrache, who has won the €250 Irish Amateur Poker Championship. A two-day battle saw him saw him outlast a field of 214 players in the no-deals, freezeout event to seize a Gold Medal, the Irish Amateur Poker Championship title and €9,708 cash prize. Dumitrache, who hails from Romania, went into the final table as chip leader with Mark Murphy second in chips – and it was Murphy who Dumitrache had to vanquish heads-up. Ireland's Murphy won €6,535 and a Silver medal while British player Shawn Morales scooped Bronze medal and €4,610.
The Irish Amateur Poker Championship was making its Irish Open debut this year and generated a €45,903 prize pool. Do check out the updates on the Irish Open blog and posts on the APAT facebook page.
APAT, the Amateur Poker Association and Tour, has been hosting championship events in Ireland since 2007 but this is the tour's first event at the Irish Open. APAT, which launched back in 2006, is hosting a string of events across Europe this year including national Championships in Germany, Wales and Scotland.