Today's schedule boasts no fewer than five championship events including the finals of the €350 Heads-Up and €5k Luxon Pay High Roller plus the Main Event, the America's Cup and the APAT Irish Amateur Poker Championship Day 1.
>>LIVE UPDATES FOR ALL CHAMPIONSHIP SIDE EVENTS ARE HERE>>
Event 10: €5k Luxon Pay High Roller Day 2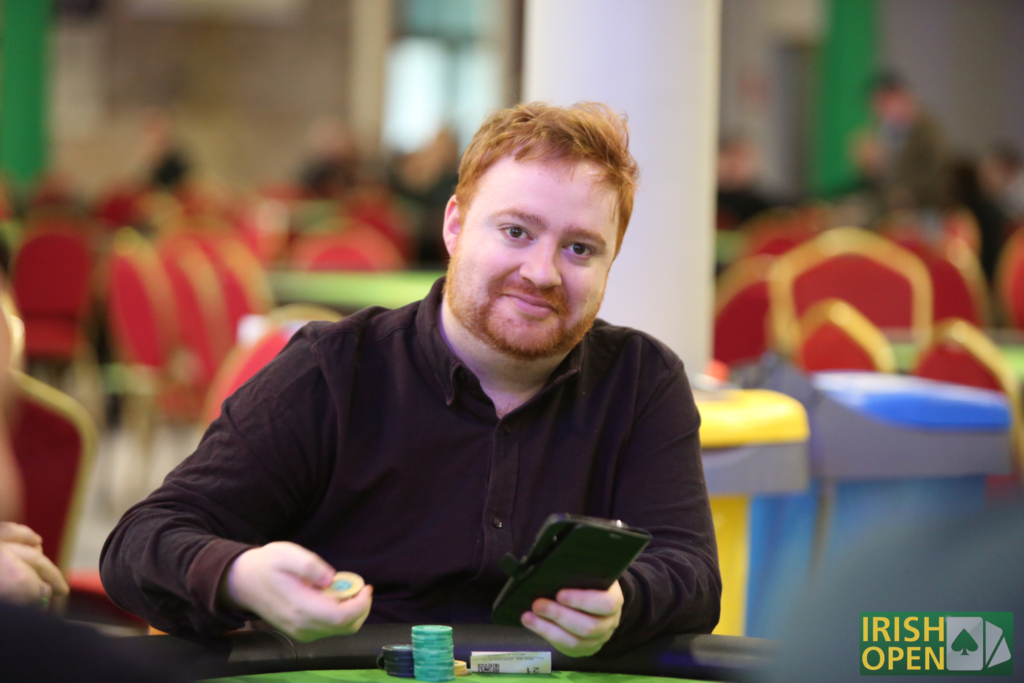 The winner of the unlimited re-entry €5k Luxon Pay High Roller stands to take home a first prize of €106,980. The event, which kicked off yesterday, is currently down to around 20 players – 11 get paid. The total prize pool amounts to a hefty €389,025. See PokerNews for live updates. The start of Day 2 chip leader was last year's Main Event champion Steve O'Dwyer. Also still in are Triple Crown winner Niall Farrell (pictured), EPT Prague champ Roberto Romanello, Kully Sidhu, Dominik Nitsche, Waheed Ashraf, Benny Glaser, Brandon Shiels, Johnathan McCann, Jack Sinclair, PokerStars Ambassador Ben Spragg, Conor Beresford and Robbie Bull. Defending Champion Alex Peffly bust earlier today.
Event 5: Kane wins €350 Heads-Up Championship
Michael Kane has won the sell-out €350 Heads-Up Championship after beating Austria's Alex Moser heads-up. Kane wins a shiny trophy and €6,145 while Moser snags €4k.
The tournament was capped at 64 entrants generating a €19,345 total prize pool. Aaron Kweskin, Nicky Levene, Aleksandrs Zenkovs and Daniel Turrisi were the min-cashing quarter-final bust-outs: they all got €1,150. Jamie Wynne and Mark Buckley made it to the semis for €2,300.
Event 13: €250 America's Cup Championship
There are currently 230+ players in the America's Cup … a very popular fixture on the Irish Open schedule which is open to everyone! The idea for the America's Cup came about when a ton of Americans and Canadians started making the journey to Dublin every year. Organisers decided to hold a tournament just for them but the event was almost instantly a victim of its own success with a flood of non-Americans wanting to enter as well. Last year the rules were relaxed and the event became open to all – attracting 191 entries from around the world and a prize pool of nearly €60k. The winner was Israeli Mor Kamber who took it down for £12,790 after besting a truly multinational final table that included Britain's Richard Pearson and Rupinder Bedi, Brazil's Alex Gomes, a Greek, an Irishman and a Lithuanian. This year there are no nationality rules at all – anyone can enter.
Event 15: €250 Irish Amateur Poker Championship makes its Irish Open debut
APAT, the Amateur Poker Association and Tour, has been hosting championship events in Ireland since 2007 but this evening's €250 Irish Amateur Poker Championship is the tour's first event at the Irish Open.
After a record-breaking £120 event at Aspers Casino Stratford last month, which attracted 482 entries, organisers are hoping for another stonking Championship in Ireland. The event starts at 6pm tonight and it's a no-deal, no re-buy freezeout.
One player whose first successes in live poker came at APAT events is Triple Crown Winner Niall Farrell. From little acorns grow mighty trees – Farrell was a Gold Medallist at the 2011 APAT UK Team Championship event in Bolton back in 2011 for £1,200; he's now won more than $6.5 million at live events and is currently competing in the €5k High Roller at the Irish Open.
APAT, which launched back in 2006, is hosting a string of events across Europe this year including national Championships in Germany, Wales and Scotland. The forthcoming English APAT English Championship starts April 14 in Blackpool and the Mediterranean Championship forms part of the Malta Poker Festival at the end of the month.
Today's €250 buy-in event – the official Irish Amateur Poker Championship of 2023 – is open to all (you don't need to be an APAT member) and will award APAT National Championship Gold, Silver and Bronze Medals to the top three players. Note to players – there are NO deals in this event – you'll be playing it out to crown a Champion.
Since launch in 2006, APAT has remained dedicated to the development of amateur players and is now a global organiser in the live events arena, holding multiple festivals in Europe and North America, in addition to a comprehensive online schedule. Several members who have final tabled APAT national events have gone on to win WSOP, WPT, EPT and many other internationally recognised poker titles.
Event 7: Stephen Lardner wins €16,720 in €250 Hendon Mob Championship
Irish player Stephen Lardner took down the record-breaking €250 Hendon Mob Championship event in the early hours of this morning for €16,720. He beat Daniel Smith heads-up to take the trophy and first prize while Smith snagged €10,620 for his runner-up finish. Irish poker legend Andy Black was third for €7,960. The tournament attracted a massive field of 400 entries – well up on last year's 332 entries and a record for the THMC in Dublin. Among the 47 players paid were Colin Lovelock, Michael Kane and last year's winner Waheed Ashraf.
Among those who competed were EPTLive commentator Joe "Stapes" Stapleton, who had a bounty on his head, and PokerStars Ambassadors Benjamin Spragg and Georgina "GJReggie" James.